The Hollies offers three, four and five bedroom detached and semi-detached homes in the townland of Ballee, just four miles south of Ballymena, and in an area with easy access to the town and the surrounding County Antrim countryside.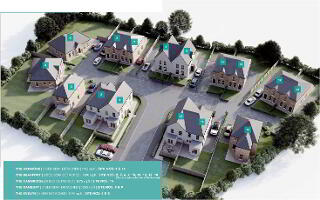 This is a modern and elegant development that embodies style and quality delivered in a stunning fit and finish. The use of thoughtful architecture defines every home with attractive exterior and interior layouts that make the most of both space and light. A rich mix of brick and render finishes combine with classical design features that fit seamlessly into the mature surroundings to provide homes defined by durability, comfort and beauty.
Now more than ever, our environment and the location in which we live are essential to our health and wellbeing. As a semi-rural location, The Hollies delivers on all fronts with its proximity to nature, outdoors activities, amenities and commuter links.
Residents are in close proximity to shops, grocery stores, fitness centres, beautiful walkways, and parkland where you can enjoy your spare time with family and friends in a selection of coffee shops, bistros, restaurants and leisure locations.
Give our office a call on 028 2563 7733 if you would like to book a viewing.